2006 Europa Show Review by Juan Carlos Lopez
Amanda Savell
August brought a terrible heat to the Arlington area where this show was held. Being outside was a similar experience as the scorching heat from USA's only a month ago. The Parisos did a better job that last year including much better lighting on stage. The lower body of competitors was now better illuminated, still the only problem is that the lights are so close to the stage that some routines will lack the luminosity if close to edge of the stage. Most competitors felt at home, specially the pros who could choose their numbers (randomly) rather than going by last name.
Friday held the women's pro show, 12pm-4pm prejudging and 7pm-10pm the finals. This was the first FBB pro show this year besides the Arnold and there was a lot of talk about how many FBBs would show up and compete. The numbers where enough to bring FBBs back next year and increase the prize money for them. Fitness and Figure would have good numbers as usual.
Juliana Malacarne
The Pro Figure had a large number of competitor close to 25. Right of the start all eyes fell on Juliana Malacarne from Brazil who brought a Monica Brantesque physique on stage. Still small but with excellent legs and matching upper body. In many countries they would have deemed her the winner without question but the IFBB is in the midst of changing their criteria. Her package was too hard for the judges and she didn't even place. It is a shame that such great physiques get turned down but many people agreed with the quality of her physique. As for the other competitors Amanda Savell was the favorite one coming to the show, being a local competitor and having swept the show last year it was a strong possibility she could do it again. DJ Wallis, Latisha Wilder and Michelle Adams (first show this year) where on stage and those were physiques the judges had showed preference for in the past. Amanda took first again, followed by Michelle Adams who edged out
Kate Shelby
DJ Wallis. Bernadette Galvan doing perhaps her second show as a pro took 4th over Latisha Wilder. 6th place was to Kate Shelby who keeps on improving and showing a look judges want. Amy Peters again shows she is right at the top and placed better here than Detroit. Petra Mertl also is a physique that judges should be placing higher given her lines and fitting the new criteria. Petra probably needs to show up to more pro shows. Arina Manta was another physique which was tight, small and very well developed but seems she probably needs to compete more often in the USA. Mavis Tozzi did her comeback and looked pretty good, is it great to see such a fine competitor back on stage after more than a year of absence. Chrissy Wan brought in a different package less harder and inched closer to the top 5.
Tanji Johnson
Fitness was very entertaining Tanji took the first place and repeated her energizer bunny from last year's Olympia. Mindi O'Brien took second and showed her sharp physique and adroit routine moves. 3rd place was for Julie Palmer who together with Tanji had already qualified for the Olympia. Angie Semsch as we speak is geared now for the Atlantic City to see if she'll be qualifying for it. Amy Haddad who was already qualified for the Olympia took 4th right before Angie Semsch. Her pirate routine was one of the most colorful even when she slipped twice with the tape on the floor, it still looked very smooth. Other interesting routines were Kendra Elias sword in the stone routine, Sandra Wickham's siren and Katie Szep racing car routines. Noteworthy was Bethany Gainey sharp physique dialed in by Greg Hasberry trainer from Alabama. Trish Warren performed a routine that was homogenous to Brach Warren's routine at the Arnold. Also Amy Huber's conditioning was beyond real, just great, did a photoshoot with her a day before and it was one of the best I have seen.
Mindi O'Brien
Female Bodybuilding was a tough call because the top 5 physiques were different mixes. Heather Foster who won the show has sheer size but came in softer. Last year our winners were much more
Dena Westerfield
conditioned. Remembering in particular Tonia Williams' conditioning which acclaimed a loud applause from the throng congregated that evening in 2005. In second came the fabulous Dena Westerfield who had a near perfect package and fitted the standards for the IFBB's new criteria. Her hair and stage presence was simply amazing. In third came Colette Nelson who improved on her symmetry and conditioning and also presented a femenine package. Tazzie Colomb finally made a comeback and presented a very well conditioned package, she will be at the Atlantic City show and will probably get the invite there. Jeannie Paperone was back this year after last years Europa where due to a backstage mistake was disqualified for not going back on stage in time. Taking 4th looked great with good size and nice proportions. Kim Perez must have the worlds best symmetry as she stormed the show with a unique V-taper that anyone would want. Antoinette
Tazzie Colomb
Norman is also notable given her great looks and also balanced look. Klaudia Larson who did look much better than her placing is perhaps going to Atlantic City so look out for her. Sarah Dunlap is now back, this time seems she could have been harder but still the youngest FBB looked really good. Other competitors who were really hard and didn't place well seems that the IFBB wants to keep that look away. The only exception is Maria Calo who year after year presents a very powerful and great physique.
The amateur portion of the show increased its size in comparison from last years'. Prejudging from 8am-12:30pm included also the amateur men, novice classes and masters. Fitness was taken easily by Puerto Rican Brenda Santiago with a fine physique and killer routine. Kudos to Barbie Guerra who challenged everyone out there despite her disabilities. More people should actually learn from her, more on her next issue.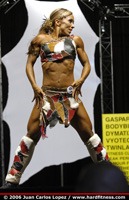 Brenda Santiago
Amber Jarrell
Figure was harder to judge as always class being taken by Stephanie Onorato, Yasha looked the most ripped but we must remember that is regional level and some that would be better at National level will get docked for muscularity and definition. Class B winner Reagen Brenner was amazing changing her package 180 degrees from last year. Reagen took the class and also noteworthy was Susan Jostes who took second. Third place was the incredible Cassie Stinson who has some of the best looks figure can have. Misty Hoke in 4th place doing her first show ever displayed very pleasing lines and looks. Class C winner Michelle Cortez won it again proving it was her look that is awarded at regional shows. In Second place was awarded to Melissa Pearo who might have been to hard for the judges, Melissa is ready for Nationals for sure though. We hope to see her there. Jill Brooks took third after making a come back after several years of
Reagen Brenner
inactivity. Jill carries a lot of muscle and can probably loose more of it and cater to the needs of the NPC. Stephanie Bratcher was 4th another competitor who has great future in this industry. Noteworthy was Christine Robertson's conditioning, she only needs to add more muscle in order to look like a Pro, she has stunning looks. The winner came from Class D Amber Jarrell who with her good balance and conditioning took the overall as well. Also noteworthy was the come back of Andrea Giacomi who hadn't competed in some time in Figure. Maybe she'll go with a different avenue after this show...
Masters figure was taken by Betty Scarborough, edging Jostes and Bratcher who looked very strong in the open categories. The masters category was about 18 competitor which was 3 times as large as last year.
Jenetta Thompson
NPC Bodybuilding had the introduction to the world of posing by Jodi Miller. She finally kicked off the heels and officially entered the realm of free posing. Even when she performed her routine without her original music she won her class and did it easily. Nancy Smith took care of middleweights edging a well conditioned Jodie Bruce. Jenetta Thompson was so sharp on the lightheavys that she was the clear winner.