2007 NPC Jr. Nationals Review by Juan Carlos Lopez
Jennifer Gates
The windy city hosted one more edition of this event, same hotel with the venue inside and everything the same. The only changes was the addition of 6 classes only 4 pro cards. This was done due to the large number of competitors on stage at the same time. Class A has had over 40 competitors and this can be difficult for judges. The 4 pro cards will be something that might be a little complicated as winning your class does not mean you get a pro card. The hotel is a very accommodating place a bit pricey for $159/night but its sure worth it as the whole event takes place there.
Figure was larger than ever with perhaps around 149 figure competitors announced as result classes would be smaller except class F which ended up being just about 31 competitors. Class A was dominated by the veterans and some newbies. Jennifer Gates seemed to be always in the middle and ended up winning her class. Houng Arcinas who has a softer look but great shape took second. Meriza DeGuzman a tight package and good conditioning was third. First time ever at Nationals Carin Hawkins from Northern California landed a fourth place. She seems to have the look they are going for now. Liza Kampstra who was much softer but with a good stage presence and confidence took 5th. Jennifer DeJoya should have placed much higher as she has the shape and conditioning to get up there. From the other competitors Kristie Newsome was simple awesome, great balance and shape, perhaps just overlooked. Courtney Gahm was also looking great and Tivisay Briceno both had good muscle on them.
Tara Chandler
Figure B was much smaller but still had a degree of challenge given the quality of some competitors. Amy Thompson took the class with a balanced physique, Allison Williams who has been around Nationals took second. The great Tara Chandler brought in her great conditioning and balance and took third. Veteran Michelle Woodward looked her best and snatched 4th as Karen Mullarkey with the look judges like took 5th. This class only included 15 competitors which made it the smallest from the show.
Sherrie Carnicle
Class C brought in a larger number and Brenda Smith emerged as the winner, not making much noise but judges liked what they saw. Becky Clawson and a more cut Amy Wilson took second and third respectively. Pamela Soper took 4th and it seemed most of the girls were smaller. 5th was taken by Lauren Notini who looked really good. Sherrie Carnicle who took 10th has a great deal of potential and also kudos to Ana Tigre as well.
Kristine Chin
Class D was very close as Melissa Pearo edged Kristine Chin by marginal points. A very conditioned and amazingly shaped Kendra McAdams took 3rd. Both Fitness girls April Fortier and Amanda Ianelli took 4th and 5th respectively. One competitor that was overlooked and could have placed higher was Tara Gooch aka "The Gooch".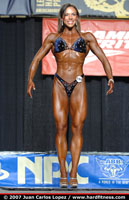 Tana Clough
Class E was all for Tana Clough (Swink), her lower body was now even conditioned with her upper body and looks were amazing as well. Veronica Miller took second with a good shape and look that the NPC likes nowadays. Danielle Edmonds was very well conditioned and took 3rd. Stacy Clary who came back with her sharper look took 4th. Natalie Calland took 5th and Shari Yates 6th both ladies with plenty of experience competing.
Jessica Wright
Class F all indicated Jessica Wright would take it just like Jen Gates took her class. And it happened both good friends ended up winning their classes. An impressive Theresa Anthony from the east coast took 2nd place surprising many that hadn't seen her. Catherine Andersen has been placing pretty well lately and judges seem to be rewarding her look. Melissa Griffin was looking outstanding, very well conditioned and could have placed even higher. Brandie Gardner took 5th, the blonde bombshell from Florida. Brandie will do well in the next couple shows she just has to continue doing what she is doing. Notable was Jaime Justin in this class who took 7th, she came back with her typical conditioning that we all love and a different hairstyle.
Now pro cards were only 4 and went to Jen Gates overall, Tana Clough runner up, Melissa Pearo and Brenda Smith. So Jessica Wright will be back with her vengeance in NYC.
Jessica Rohm
In Fitness A Jessica Rohm dominated with her routine and also her physique getting her 1st place in the short class. Carmen Chavez brought a good physique and took 2nd. Maggie Blanchard took 3rd, Babette Mulford 4th and Angela Reineck 5th. These last probably doing their first year of Nationals.
Tina Durkin
Fitness B was taken by Tina Durkin who brought both the shape and the routine to back it up. Nez Zamorano took 2nd with a good physique and in 3rd Lishia Dean who brought a total new look from '05. Dark hair rather than blonde and other important changes in her structure. Wendy Gardner took 4th with an entertaining routine and in 5th Malena Marquez from Colorado.
Traci Redding
Fitness C was all for Traci Redding who changed from figure to fitness. Having been told her look was too muscular for figure she still brought a competitive shape plus a solid well put routine that many couldn't believe it was her first fitness show. Nicole Wilkins smaller in size than Traci took second, she has been placing well in will get her card soon. Lena Squarcifiaco took 3rd, April Fortier 4th rounding a top 5 on both fitness and figure and Amy Gilgenbach with good muscle and solid routine took 5th.
Diane Cook
Female Bodybuilding was small, lightweights were all for Lori Steele and second ex-figure Suzanne Germano who had more size and than Sharon Garrett who did have a good shape and look. Wanda Moore took the middleweights and Tracey Toth the light heavys. Diana Cook was then the overall winner, even in the weigh ins, Tim Gardner's prodigy was looking solid. She will be up there in pro cards.