20 Questions with Cover Model and NPC Fitness Wendy Fortino
Wendy Fortino
1) Please introduce yourself? What makes you special? Who is Wendy Fortino?

I don't really consider myself to be "special" necessarily. I am a very hard-working person who has gotten far in life and will continue to do so because I do not expect anything less of myself. One thing that makes me stand out in a crowd I guess is the fact that I know exactly who I am and never question it. Failure is not an option for me, success is.
2) Please tell us a bit about your family, friends and surroundings?
I have two sisters. I have a fraternal twin sister who just had her first baby girl, and an older sister who has two little girls. My parents are amazing and a true example of long-term happiness. They have really set the bar high for me and my sisters in terms of relationships. Growing up, my parents gave everything up for us to do everything from gymnastics to whatever made us happy. My Mom got her college degree and graduate degree after we all left for college and is now a successful manager of Modesto Parks and Recreation. My father is a Sheriff for Alameda County and is due to retire this year. I think he will go off to coach high school football after he retires. My family is great, what can I say?
3) How did you start competing in fitness?
I started competing after my track career ended last summer due to a bad injury. I was really bummed out and my boyfriend, Matt Allen, started training me with weights to get me out of my "rut". I used to be a gymnast, so it got me jazzed to think about doing something like this. I didn't realize this world would be so fun. It is perfect for me - I fit right in!
4) What is your personal policy (not what the judges want) about conditioning and muscularity when coming into a show? Soft or hard?
I don't know. I have always been muscular. Growing up, I never experienced looking like a "normal" kid, and sometimes I was a little insecure about my muscularity. However, now I am in a world in which I can embrace my natural muscle and even work at making it stand out more. After getting more involved, I have discovered that I think muscles are beautiful! I really like the look of Gina Alliotti. I hope she wins an Olympia, because her look is what I really like!
Wendy Fortino
5) What is your idea of what judges want in a figure/fitness competitor? Do you think judges are clear enough with competitors about how they want you on stage? It seems in Europe they are very clear unlike in the USA.
You know what is so funny? And maybe it is good that you are asking someone like me who is a complete rookie, because I will tell you "like it is"... Honestly, there is all this talk of what the judges want or don't want, but when it comes down to it, I think that when a woman is beautiful and proportioned perfectly, it all comes together. Being "too hard" is relative to the girl. Some girls look better when they are softer, while others look better when they are harder. If a girl thinks too much about it, she may not come in looking the best she can look. Because I tend to be very lean and muscular naturally, I would look worse on stage coming in "too soft". This is just my personal opinion. Take it for what it is.
6) For the next shows what do you think you need to work on physique-wise/conditioning-wise? If anything!
We all have things to work on. I will be working on something up until the day I quit this sport! Physique-wise, I need to get my abs to look better and get my waist smaller. All of the track has really built up my obliques. I also need more glute action and shoulder action. I will probably never be totally satisfied.
7) What is your typical training routine in the gym (per day, include sets and reps!) How much cardio do you do before a show?
I get up first thing in the morning for a 45 minute run. I have to run pretty intense to get something out of it. I train with weights 4-5 days/week and do split training. I work chest & shoulders, back, and glutes/hamstrings. These are the areas that Matt wants me to develop. I will rotate between workouts. In the evening, I do another 30 minutes of cardio on the stepmill. I have to go at such an intense pace to work a sweat! I also practice my gymnastics skills 3-4 times/week. I work with my coach, Mike Lorenzen (Stanford University Women's Gymnastics coach) at least once a week. I train very hard. Sometimes I will hit the track up to 2 times per week for some intervals to lean out my legs. That is when I come home missing track. I think, "what if I just jumped into a race? Just one race - how fast would I go right now?" Matt (my boyfriend) tells me, "just focus, Wendy!"
8) What is your pre-contest diet? (per day, 1 week before the show)
One week before the show? Well, I've only done two shows so far, and we are still trying to get it right. I am not sure what Matt will have me do this time around. I seem to be very ahead of schedule, so I don't think he will have me "carb up" the week before like we did last time around. I will probably coast in with about 200 grams of carbs (from white/brown rice), 120 grams of protein (from tilapia), and 50 grams of fat (from almond butter). This is consistent with what I am doing right now too. It will be a comfortable week with rest from the gym and not a lot of dramatic changes from what I am doing right now in terms of diet. Matt got it right this time I think. I have no idea how he figured me out - I was a difficult one to figure out a diet for. My diet as a track athlete was a pretty intense conglomeration of significant amounts of carbs and good fats.
9) How do you go about dropping your water before the day of the show? How much water do you drink the day of the show. Please be specific.
Matt gave me 16 ounces of water to drink the day before my last two shows, and I didn't drink anything the day of the shows. It didn't feel like torture, though. It's not as bad as people think. It was so funny - the other day, someone from the gym asked me if I was a figure competitor, and then proceeded to ask me if I "like, dehydrate myself all the time and stuff?" I said, "of course not! I would never be able to train the way that I need to if I were always dehydrated." The body can do just fine on little water for a day or two. I'm glad you asked this question.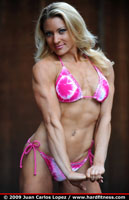 Wendy Fortino
10) What motivates you to train/diet and compete? Are there any competitors you looked up to?
The thing that motivates me is the intense competitive nature within me. I am a serious athlete who feeds off of being the best in whatever I do. I have found something I can be successful in, and that is exactly what got me hooked on track. When I find things I can excel in, I train so hard that I can't imagine anyone training harder. I really look up to Monica Brant - like I am sure every other fitness and figure competitor on this planet! She has an amazing physique. So well proportioned. I feel like I have a similar body type, so I am shooting for a similar look.
11) Please tell us an interesting experience you had at a show recently, be it a fun thing or something rather not so fun?
Ummm... Okay, I have to mention the "muffin situation"... So, my first show, the San Francisco, Matt told me to keep munching on my snacks backstage before going out. Well, I had these banana nut muffins for "emergencies", and I ended up eating them all up. All 8 of them!!! I almost successfully screwed myself up, but luckily, I was in such great shape that it didn't do too much damage. I ended up winning the overall title anyway - thank goodness! Yikes! I got in trouble for that one. Actually, Hany Rambod, who helped me a little for the show too, got pretty upset at me and will never let me live that one down! I'll probably get crap for that for as long as I live!
12) What is your personal opinion about the figure, fitness, bodybuilding industry we are in? Anything you would like to see changed?
Of course there are things that I don't necessarily like completely, but those things make the sport what it is. If it were all glamorous, it wouldn't seem as "enticing". The pieces that cause people to gossip or talk bad about are also the pieces that give competitors pride in doing something that few choose to do, and fewer actually succeed in.
13) What has been your hardest challenge to overcome either in your personal life or competing career?
My hardest challenge to overcome has been my focus on one thing. As I get older, I am able to focus on fewer things, but it has always been hard for me to see how far I can go in just one thing because I am always pushing in a lot of different directions. My mind is very scattered. I am pretty much never satisfied, and my interests always change. Matt has really helped me stay focused. If I can focus on just one thing, I think I may actually be able to see how good I can really be. My scattered ways has really hindered my athletic performance in my past.
14) Did you make any changes to your contest prep for your last show? Water intake, carbing up, etc... any changes for your next show?
Like I said, it is hard to say exactly how my contest day diet will pan out. Since I have only done 2 shows, I will have to answer this one once I get closer to my next show.
Wendy Fortino
15) How do you feel about the new NPC bikini division?
I think it is great! More power to those girls! It is awesome to have so many pretty girls who have been competing in figure for so long be able to cross over if their look is more of a "Sports Illustrated" look. It will be more entertaining for the men, and more women will be able to compete. It is also emphasizing the feminine quality of the sport. I like that direction.
16) How do you balance your family life with competing and dieting for shows? Do you have a support system around you (family, etc...)?
It is always easy to train and diet because my boyfriend is a bodybuilder too, and we are both obsessed with eating good food and exercising all the time! You should see our food bill - it is off the charts! But at the same time, that is what we value. It is a lifestyle. I am investing in a long, happy future. I work at Stanford University, running the fitness facilities and programming, and everyone there is so supportive of what I do. People are always asking me about it, and I have students come in to my office wanting to compete and asking for tips too. My world is fitness and I choose to be in a supportive environment.
17) Please tell us about how you were raised and did you have any interesting experiences while growing up?
I was raised in Modesto, California. I loved how I grew up. My parents were very active, and we all did things together as a family. We would go rollerblading together, or go for walks, or whatever. I had a dalmatian named "Konan". He was wonderful. My Dad gave us the option of naming him "Rocky" or "Konan", and what would you choose? I feel lucky to have had the childhood that I had. I am truly blessed.
18) Do you have an athletic background? Gymnastics, soccer, volleyball or what?
Yes, I was a gymnast for 7 years, and then I went on to run track and cross country through high school and college. I can't even remember not competing in something since the age of 7. I have never taken time off from competing. I don't think I ever will unless I can't for some reason.
19) What is a typical day in the life of Wendy Fortino? From waking up to until going to bed?
I wake up to a wonderful run in my town of Cupertino, California. I love the lit streets in the dark morning! Then, I get ready to go to work. When I come home, Matt and I usually go to the gym together and we train and do cardio together. Night time is usually relaxation time. We watch TV for a little bit and then go to bed. Nothing too exciting. We find joy in the simple things in life. I get excited about my cup of Starbucks in the morning, or going out to dinner with our friends once in a while.
Wendy Fortino
20) What is your current occupation? Please tell us more about it, what do you specifically do in your job?

I run the fitness facilities and programming at Stanford University. I basically set all of the faculty and staff up with fitness programs. They come back to me and I keep them on track. I also teach PE classes and plan events for the students, faculty and staff that they will remember and enjoy being a part of. There is a lot of creativity involved. I always have to be on my toes in my job because there are a lot of very smart people who will challenge me. I have to be at the top of my game and know what I am doing at all times. It is just like everything else that I do - it requires an enormous challenge, and leaves me constantly on the edge of my seat wanting more!